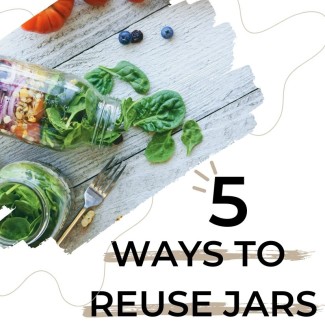 Think about all the jars you've used while cooking in your life. Now, think about how many of those jars you've tossed after using. Although we can recycle these items, why not reuse them in your home? There are so many ways to upcycle jars and take advantage of the endless possibilities. Plus, getting crafty is a great way to reduce stress, boost confidence, increase patience and challenge your creative side.
Reorganize your pantry


Disorganization and clutter can negatively affect anxiety levels, as well as your ability to focus. That includes even the smallest bit of disorganization – like your pantry. Try these methods of organization, using only your leftover mason jars.

Transfer bulk foods into large, labeled jars (oats, seeds, flour, sugar, salt, coffee)
Save small jars for spices
Store teabags
Tip: use a Sharpie paint pen to label, so you can easily erase and relabel when necessary

 

Use jars to grow a herb garden


Save money by growing your own herb garden right at home! Not only is this a great way to upcycle used jars, but you'll have all your favorite herbs right when you need them. Grab some potting soil and start growing! Below are some of the easiest herbs to grow at home.

Basil
Parsley
Cilantro
Thyme
Rosemary
Mint
Bay Leaves
Dill

Weekly meal prep


Not only is meal prepping with jars aesthetically pleasing, but it's also the smartest way to meal prep. Because mason jars are airtight, your food will last a lot longer. Also, meal prepping with jars helps you portion your meals, and the glass structure will allow for reheating. We've listed some of our favorite recipes that'll do great in a jar!

Tip: store produce in airtight jars to last twice as long in the refrigerator

Pickling foods


Pickling is a process of preserving food by fermentation or immersion in vinegar or salt & water. Not only is this cost-effective method, but there are also various health benefits to pickling foods. Some health benefits include soothing muscle cramps, aiding healthy digestion & gut support, attaining antioxidants and more. Oh, and did I mention pickled foods contain probiotics? There's no reason you shouldn't be pickling foods, so we've rounded up our favorite recipes for you to store in your used jars!
Get Crafty!
All the above ways to upcycle jars are convenient for everyday use, but there's also so many fun & creative ways to reuse your old marinara and jam jars! Here are just a handful of DIYs to get crafty with your family, friends or significant other:

Make your own candle in a jar
Painted/tinted flower vase jars
Jar lighting fixtures
Glitter glue jar – for the keiki!
Positivity jar – write uplifting quotes on scraps of paper and fill to the top. Every day, take one out and read aloud for a burst of positivity!
We hope you found this information useful. Have fun and don't forget to tag your jar creations with us on Instagram at @downtoearthhi or on Facebook!