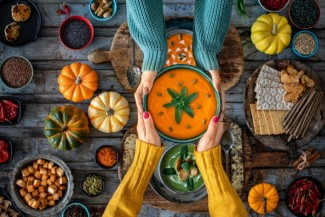 Ohana, it's that time…Thanksgiving is just around the corner. Are you ready to plan a feast that's not just delish but also healthy? Let's talk plant-based swaps that will make you go yum without the guilt!
First things first, plan. You don't want to be running around like a turkey with its head cut off when T-Day hits. Here's the game plan:
Guest list: Know who's coming. Are they vegan? Gluten-free? Got allergies? This will shape your menu.
Menu magic: Balance is key! Have a mix of raw and cooked, light and hearty, sweet and savory.
Shopping strategy: Hit the stores early. Get packaged ingredients ahead of time and fresh veggies during Thanksgiving week.
Healthy Swaps
The Big Day
Morning: Start with setting the table and getting decorations sorted.
Afternoon: Appetizers and cold dishes first. They can chill while you work on the hot stuff.
Evening: Heat up the main dishes. Once the aroma fills the air, it's showtime!
Last Tips
Delegate: You're the host, not a one-person show. Let friends and ohana bring dishes.
Leftovers plan: Have containers ready. Sharing is caring!
Enjoy: This is your day too. Take a moment. Breathe. Enjoy.
Thanksgiving is more than just food. It's about gratitude. So this year, show some aloha to your body, the turkeys, and the planet with these plant-based swaps. Let's make this Thanksgiving unforgettably healthy and happy!