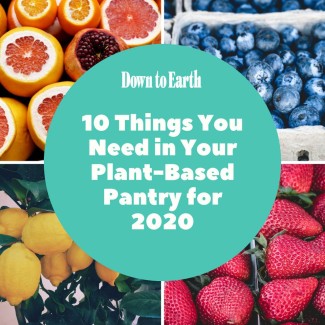 So you want to take the leap into the world of plant-based living? We're rooting for you! Going plant-based doesn't need to be scary, in fact, the biggest mistake people make is not keeping it familiar! You already know what you like so to make things easy, just make a plant-based version of your favorites. At Down to Earth, we want you to feel like you can make this important change with minimal disruption to your usual menu.
Here are a few essentials to get you inspired for the new year:
Grains - Rice is a staple for us here in Hawaii, but did you know that not all rice is created equal? Check out our bulk department to try out all kinds of rice to make your cooking fun and familiar! We also have oats and other gluten-free options to keep your tummy full and satisfied. Try this: Traditional Spanish Rice, Coconut Quinoa Risotto, Overnight Oats
Nutritional yeast - We know, this product doesn't have the best name. But trust us when we say that it is one of the most versatile ingredients you can have in your pantry! Some call it "nooch" for short. Not only does nooch contain vitamin B12, it also adds a savory, umami flavor to anything you add it to. It's very close to that indescribable flavor you get from cheese. Try this: Add a tablespoon of raw cashews, ¼ cup of nutritional yeast and a pinch of salt to your food processor or coffee grinder. Instant plant-based parmesan!
Raw cashews - Speaking of raw cashews, they are another extremely versatile ingredient to have around. They can be found in our bulk department, along with many other amazing nuts and seeds. Be sure to get raw cashews so you can soak them overnight to get nice and soft for these awesome recipes: Marbled Cheesecake with Berry Glaze, Herbed Cheese Wheel, or Queso Sauce
Tofu - We take tofu pretty seriously here at Down to Earth. We have all types of tofu from silken soft to super firm but you'll never find GMO tofu on our shelves. That's a promise! Tofu is almost too versatile...you can use it for savory or sweet dishes, sauces . It can transform into scrambled "eggs", spicy poke, goat cheese, sour cream or even cheesecake The possibilities are endless!

Egg substitutes for baking - Baking can be intimidating when eliminating eggs, but we're here to tell you that there are loads of ways to make your favorite baked goods while leaving the chickens out of the picture!

| Plant-Based Ingredient | To substitute 1 egg... | Works Great For... |
| --- | --- | --- |
| Soaked Ground Flax Seeds | 1 TBSP Flax + 3 TBSP Water | Brownies or cakes |
| Overripe Banana | 1 medium banana, mashed | Muffins, cookies, and of course, banana bread! |
| Applesauce | ¼ cup organic applesauce | Cakes, pancakes |
| Follow Your Heart Vegan Egg | Follow package instructions | Most baked goods! |
| Aquafaba (chickpea brine) | ¼ cup aquafaba | Whips up just like egg whites for meringues but also can be used in cakes, cookies and quick breads |

Frozen veggies/fruits - Going plant-based does have a bit of a learning curve and sometimes, you don't have the time to whip up a gourmet meal from scratch on a weeknight. There is no shame in stocking up on frozen organic fruits and veggies! The nutrients are frozen right along with those fruits and veggies so you can make easy and convenient stir fry, pot pie and smoothies!
Seasonings/Broth - Seasonings make all the difference, plant based or otherwise. (Remember, you used to have to season your meat with plants to make it taste good!) So make sure to pack a punch with your seasonings and broth selection. You probably already have lots of these in your pantry and just need to make a plant-based swap from animal-based broth to the veggie variety. These pre-blended seasonings are also really great to make quick meals – Taco Night anyone?
Chickpeas/Garbanzo beans - This amazing bean can do so much! The bean itself is packed with protein for a great value. Try this: Vegan Tuna Salad. Don't throw out the liquid because you can whip it up like egg whites! See for yourself when you make our Edible Cookie Dough. You can also substitute in savory baking recipes in place of an egg like in out plant-based burgers.
Nut butters - Nut butters are a real staple in any plant-based kitchen. You can even make your own at our nut butter machine in the bulk department! Of course we all know how great sweet recipes using nut butters can be - we love Almond Butter Cups or adding a big scoop of peanut butter to your smoothie for extra protein! But did you know that nut butters make excellent savory dishes too? Try this: Tofu Satay, Kale Salad with Peanut Dressing (if you're allergic to peanuts, try almond instead!)
DTE Deli app - For those days when you're too busy to cook, you can order your favorites from the DTE Deli app, then swing by your favorite Down to Earth for pick up. No stress, just yummy food that's sure to satisfy you and your family's cravings! Try this: Check out our Deli Order Website to order online or download the DTE Deli App!